Thanks for all the input guys!  About "what it is", just a little background (I was trying to avoid this post being an advertisement, but it would help if you knew what my product was huh?)  Okay... here goes....
Grill Charms™ are similar in concept to the wine charm. Each charm is the size of a dime with a decorative head and a stem that is textured so it does not fall out while grilling or broiling. Grill Charm™ your food prior to cooking to distinguish spices and flavors, steak temperatures, or to avoid health or allergy issues. When dinner comes off the grill everyone knows which one is theirs.
No more cutting into 5 steaks to try to find the rare one
No more offering only mild BBQ because too few guests like it spicy
No more confusion with health or allergy concerns
Serrated to stay in securely while grilling, flipping and moving
Made of high quality heat conducting stainless steel
Food cooks evenly around charm
Stress free grilling for grill master and guests
Works with Burgers, Chicken, Steak, Pork, Fish and more!
This is the Steak Collection (MR for Medium Rare etc..)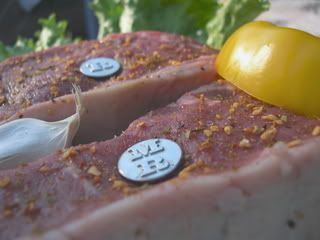 That`s pretty much it in a nutshell
JMac, thanks for the realistic picture of what exactly I'm asking for.  I'm not deterred, but most certainly it is smart to go into it with eyes wide open.  I have heard the stories and still want in… Am I crazy or what?!  I think your post gives very valuable information about the retail machine that is QVC and I do know it is not for the faint at heart.  I still want a shot though.   
Swaney, thanks so much for the story!  I'm going to have some cool PR opportunities coming up, so maybe I'll be grabbing someone's attention this year.  4000 units in minutes!!  See, now THAT'S what I'm talking about!!!  YAHOO!!!
Jamie, most recently with their online submission form I received this rejection…
"Your recent product submission was given careful consideration during the review process. We regret that your product does not fit into current programming strategies, but we wish to thank you again for your interest in QVC.
Unfortunately, due to the volume of submissions and press of other merchandising responsibilities we are unable to provide individual evaluation comments regarding the decision.
Please understand this decision is not a reflection on the merits of your product. It simply means it does not meet QVC`s needs.
QVC wishes you good luck in marketing your product elsewhere."
Krissy,
Your "Eye Candy" is AWESOME!!!
Glad to see I'm not alone!!  2008 girlfriend… I'm feelin it!!!
-------------------------
Leslie
Founder and President
Charmed Life Products LLC
Grill Charms™… The MUST HAVE grilling accessory that is revolutionizing the American Cook-out AND The perfect gift for any occasion!
Grill Charms